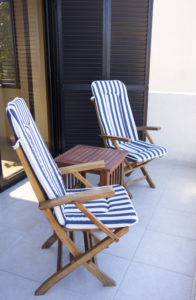 To ensure the  attractiveness of your community, please keep your patio and balcony area looking nice. Thank you for your cooperation.
Bagged trash, trash cans, mops and brooms are not to be left outside.
No rugs, towels, laundry, clothing , coolers, appliance or other items shall be stored, hung or draped on railings.
Only patio style furniture and 2 plants should be visible on balconies and patios.
Fire safety regulations prohibit the use or storage of gas or charcoal grills on your patio or balcony.
Management reserves the right to monitor décor and appearance.
The patios and balconies were not designed for storage.
As always, please contact the leasing office with any questions.